We are still in the planning stages for a possible December online workshop. Check back for further information.
About the workshop
The Three-Day Workshop

This three-day intensive course is designed for the beginner as well as for students with varying experience in the Alexander Technique. It provides the opportunity to study with teachers trained in a variety of schools.

• 7 to 1 maximum student/faculty ratio
• Individual lessons and classes
• Small groups applying the Technique to particular areas of interest: daily activities, voice, music, theater, dance, sports
• Special activities for Alexander teachers and trainees


A Faculty on the Cutting Edge of the Developing Alexander Technique

• Body Mapping taught by its originator and a faculty deeply versed in its use in the Alexander Technique
• Application of the technique to performance: we have long experience in music, theater, and dance
• Exploring the interaction of Alexander with breathing, yoga, and energy work

Location and schedule
Location

Online with Zoom

Schedule

(Details subject to change)

The course will be offered on the Zoom platform. We'll meet Friday, Saturday, and Sunday between 9 am and 1 pm PDT; you can figure out the time adjustment for where you'll be. One of the advantages of the current situation is that wherever you are you'll be able to attend without the expense of transportation and lodging. Even people living in Europe and Japan may be able to join us, time zones permitting, (though the only course language will be English).

The exact details of the schedule will need to be arranged later, once we have an idea of how many people will be with us. It will include: working with activities such as music, voice, theater, etc.; body-mapping; Dart procedures; various energy-focused practices such as chi-gong and the Medicine Wheel; and private lessons for each participant. We will meet both as a whole group and in smaller break-out rooms.

The schedule is arranged so that every participant will have plenty of opportunities to work with each of the teachers.
Faculty

Bill Conable
is the senior Alexander teaching student of Marjorie Barstow, with whom he began working in 1962. He also studied with Frank Jones and Walter Carrington and studies energy healing with James Kepner and Carol De Santo. He is certified at the Advanced Practitioner Level in Nervous System Energy Work. He developed the first university course in the Alexander Technique at the Ohio State University, where he is Professor Emeritus of Music. He is the inventor of the concept of Body Mapping and co-author with Barbara Conable of the influential book How to Learn the Alexander Technique.

Bill teaches classes at Holy Names Music Center in Spokane, WA, and maintains a vigorous private teaching practice as well. He is a teaching member of ATI and a former teaching member of AmSAT. He has taught Alexander throughout the US and in Japan, Taiwan, Switzerland, Chile, Italy, and Hungary. He recently held his second successful workshop for teachers at ACAT in New York. He is President of Alexander Workshops, LLC, and Workshop Coordinator. He is a co-director of the teacher training program
IMAT
.


Dale Beaver, RMT,
has a BMus from the University of Mt. Unon and graduate work at OSU. After a 10-year period of study with Bill Conable and others who trained in Lincoln Nebraska, he became a certified teaching member of ATI. For more than 20 years, he has taught residential Alexander Technique workshops in Ohio, Virginia, Vermont, Indiana, Michigan, Wisconsin, North & South Carolina and Washington as well as state music conventions throughout the Great Lakes region. For eleven years he taught Alexander Technique courses at Ohio State University in the School of Music, Dance Department and Theater Department and was Director of Health and Wellness for the School of Music at OSU. Along with continued regular Alexander studies with colleagues, he studies energy work with James Kepner and Carol DeSanto, and has been certified at the Advanced Practitioner Level in Nervous System Energy work. Dale has been an organist and choir director for over 45 years, and runs a private vocal studio.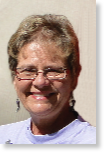 Donna Doellinger, RN, RMT,
has been a Registered Nurse since 1973. She specializes in Newborn Intensive Care. She pioneered the use of Alexander's principles with premature infants beginning with the trauma of birth and resuscitation through various stages of healing and growth including respiratory and feeding issues, calming and coping issues for drug addicted babies, as well as working with parents to improve the quality of bonding and care-taking. She has also given classes for nurses to work on improving their use while performing their duties.
Donna has studied the Alexander Technique since 1977 with the Conables and Marjorie Barstow. She graduated from The Alexander Foundation in 1990 and maintains an active private practice in Columbus, OH. She teaches an ongoing Alexander class for persons with Parkinson's Disease, and is on the faculty of the Alexander Workshops Winter workshop in Columbus.
Since 1990 she has studied energy healing with James Kepner, Carol DeSanto, and Rosalyn Bruyere and is certified at the Advanced Practitioner Level in Nervous System Energy Work. She teaches classes on anatomy for energy healers, and beginning techniques and skills for people interested in energy work. Her focus now is on exploring the complementary use of energy skills with the Alexander Technique to lead students to an expanded experience of the whole self. She is a teaching member of ATI.
Fees
Fees


TUITION ONLY: $595. Full-time students and professional Alexander teachers receive a 10% discount to $535.50. Alexander teacher trainees receive a 15% discount to $506. Increased costs have necessitated the first fee increase in five years; however, since parking at the new venue is free, many of you may even come out a little ahead!

DEPOSIT of $250 will guarantee a place in the course until December 5, when the balance is due.

REFUND POLICY: Full refunds are made up to one month before the course. In case of cancellations received after December 5, the deposit is non-refundable. There will be no refunds after the workshop begins.


Application
You may submit this filled-out form directly from this web site.
All red fields are required.
You may also print the form and mail it to us at 815 Villard St., Cheney, WA 99004. You may pay by check sent to the same address, or by credit card. Once the workshop arrangements are finalized, credit card payments may be made from this website or by special arrangement for odd amounts (contact Bill).
For Teachers and Trainees
For Teachers and Trainees


If you're an Alexander teacher or teacher trainee, we have some extras to offer you:

• First, of course, is the 10% discount from our already-low tuition fee for teachers, and for the first time, 15% for trainees.

• Attendance at the course will count towards your continuing education requirements.

• Our course is organized into "home groups" and "rotating groups." The home groups are formed of people of like experience and meet together every day. We usually have one group composed of teachers and trainees: this group can concentrate its attention on teaching issues and learn about cutting-edge advances in the Technique. Bill in particular has been focussing on working with teachers in using their hands effectively.

• Bill, Donna, and Dale have spent a lot of time in recent years exploring energy work and its relationship with the Alexander Technique, and are Advanced Practitioners of Nervous System Energy Work. Donna is also trained in Reiki. We offer workshops for teachers in this field, and this is a great opportunity to find out what our discoveries have to offer you. In addition to the teachers' home group, if there's sufficient interest we'll offer a late afternoon group dedicated to this subject.

We hope to see you in December!